Des tuyaux qui comptent. Tournant patrimonial et renégociation des relations entre voirie et réseaux d'eau et d'assainissement
In many local authorities, water and energy networks are enshrined in larger departments in charge of road and highways. One such organisation reveals an interdependence between the surface and the underground, and fleshes out forms of asymmetric coordination where the roads and highways services are influencing and setting the public works agendas, regardless of the specific need of urban technical networks. This hierarchy of the different services emphasises the "political sensitivity" of the urban roads, which are an urban surface experienced by everyone on a daily basis. Drawing on a qualitative 18-month survey in various French territories, this article shows that this hegemony of roads and highways departments in the organisation of public works has been challenged over the last decade by a threefold process. It combines the increasing development of specific and ambitious policies of "gestion patrimoniale" (asset management) for the urban technical networks; the ecological transformation of some urban planning practices; and a higher budgetary constraint on local finances. This threefold process contributes to a form of "patrimoine" turn (including maintenance, heritage and legacy dimensions), which is reassembling interdependencies between various urban technical infrastructures. It translates into new ways to make water and sanitation networks matter and to value them vis-à-vis roads and highways.
Dans un grand nombre de collectivités, la gestion des réseaux techniques d'eau et d'énergie est insérée dans une direction chargée de la voirie. Cette organisation traduit une interdépendance entre le souterrain et la surface qui nourrit des formes de coordination asymétrique, la voirie « dictant » généralement les occasions de travaux, indépendamment des besoins spécifiques des réseaux. Cette hiérarchie des services témoigne de la « sensibilité politique » de la voirie, surface urbaine dont chacun fait l'expérience quotidiennement. S'appuyant sur une enquête qualitative de 18 mois en France métropolitaine, cet article montre que depuis quelques années, cette hégémonie de la voirie est remise en cause par la mise en place progressive de politiques de gestion patrimoniale spécifique aux réseaux, à laquelle s'ajoutent une écologisation de certaines pratiques d'aménagement, et une contrainte budgétaire accrue sur les finances locales. Ce triple processus contribue à une forme de « tournant patrimonial » qui reconfigure les interdépendances au sein de services techniques, et se traduit dans les services par de nouvelles manières de « faire compter » les réseaux techniques d'eau et d'assainissement et leur entretien face à la voirie.
Fichier principal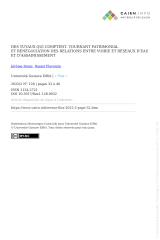 FLUX1_128_0032.pdf (1 Mo)
Télécharger le fichier
Origin : Publisher files allowed on an open archive